November Peace Memorial Park & Lloyd Cleanup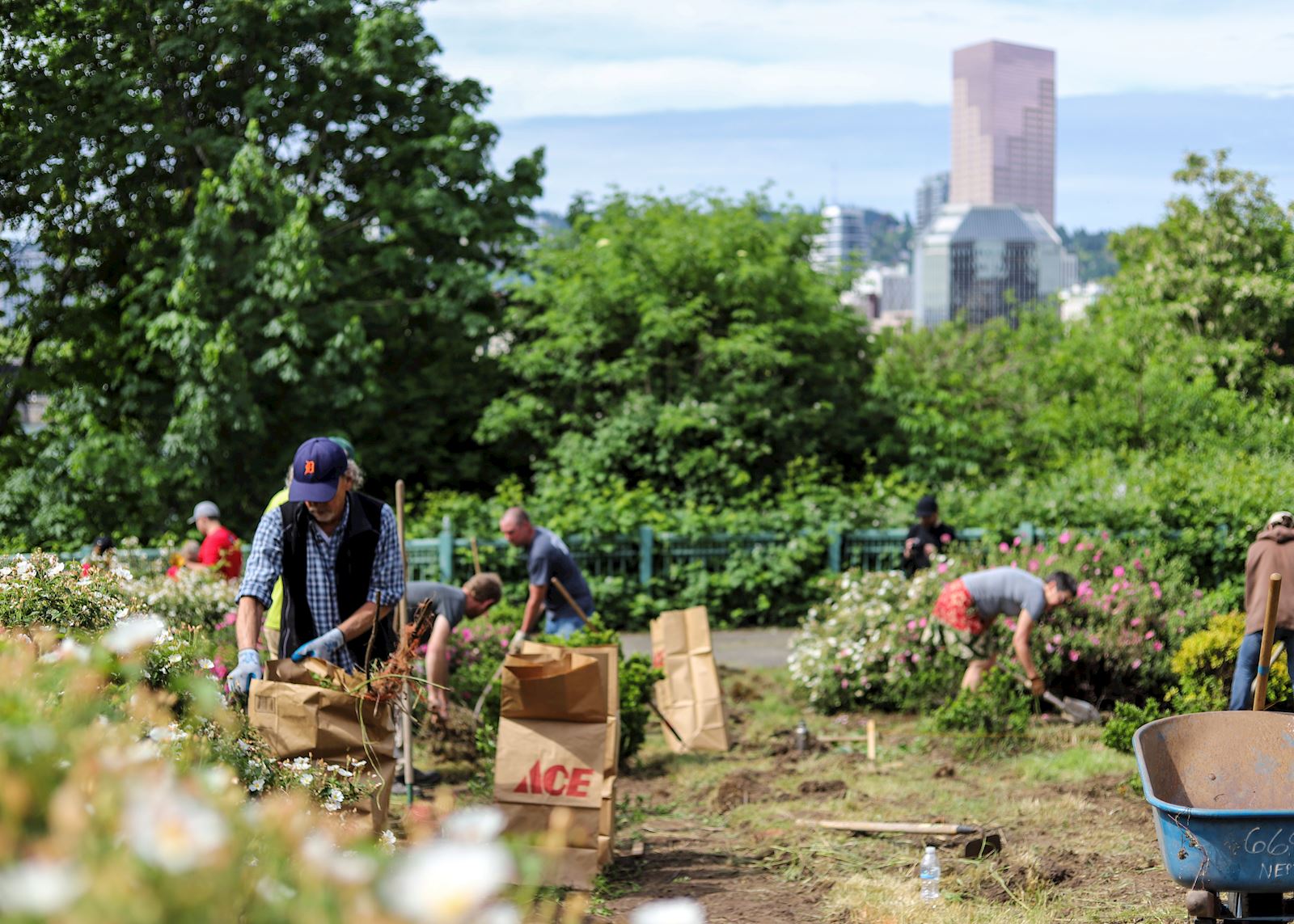 Join Lloyd EcoDistrict and SOLVE volunteers to clean up Peace Memorial Park and the surrounding areas in the Lloyd neighborhood (Eastbank Esplanade/Convention Center/Moda Center). The clean-up event will include raking up and some basic landscaping work at the park and picking up trash in the area.
About Peace Memorial Park: Connected to the Eastbank Esplanade, intersected by one of Portland's busiest bikeways, and graced with expansive views of the Willamette River and the downtown skyline, Peace Memorial Park was established as a public place to honor victims of war, both military and civilian. Since Lloyd EcoDistrict joined in partnership with Veterans for Peace, the vision of the space has expanded to honor the intersection of conflict, climate, and social justice. Read more here: https://www.ecolloyd.org/pollinator-garden/
When: Saturday, November 13th, 2021. 10:00am – 12:00pm
Staggered Check-In: Event check-in will run from 10:00 AM to 10:30 AM. Arrive any time during this window. This will allow for a smaller crowd than checking in all at once.
Meeting Location: Peace Memorial Park located at the intersection of NE Oregon St and NE Lloyd Blvd (near the Oregon Convention Center).
Address: 7 NE Oregon St, Portland, OR 97232. MAP LINK.
Pre Registration is Required: Due to COVID restrictions, we will only be opening the event to a limited number of volunteers. If you would like to participate please sign up here quickly before spots run out.
What's Provided: All tools & supplies- heavy-duty garbage bags, litter grabbers, gloves, rakes. etc..
What to Bring: Please come wearing a face covering, closed-toed shoes, with a filled reusable water bottle. If you have your own gloves, litter grabber, and litter bag, or bucket, you are encouraged to bring those as well. Observe social distancing throughout the cleanup. We are also looking for a few people who can bring a lawnmower, weed trimmer, or hedge shears. If you are able, contact Joshua at joshua@ecolloyd.org.
Restrooms: There may be access to a porta-potty at the park, but public restroom access is not guaranteed. Please plan accordingly.
Getting There/ Parking: Walking/biking to the event is encouraged. Peace Memorial Park is less than a 5-minute walk to Rose Quarter MAX Station. Metered street parking and private parking lots are also available for car parking nearby.
Youth Volunteers:  Children are welcome if accompanied by an attentive adult. Youth volunteers ages 13-17 can also create their own SOLVE account online. A youth volunteer can attend without their guardian if they print out and bring a signed youth waiver form. Find the link to the youth waiver form here. Youth Waiver Form or here SOLVE | Volunteer Group Guide (solveoregon.org)